[ad_1]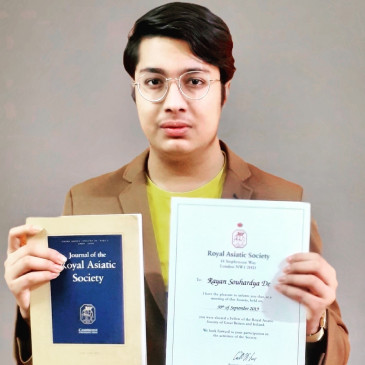 Digital Desk, New Delhi. The 16-year-old writer, in his second historical fiction after the retelling of the Ramayana, focuses on the ancestors of Lord Rama, who ruled Ayodhya. The book highlights the stories of different kings of Suryavanshi.
The author Soudhary is a Fellow of the Royal Asiatic Society of Great Britain and Ireland and is also a recipient of the Prime Minister's Children's Award-2021. He told IANS, "More than my first work, my second one has more to do with Ayodhya, as I have tried to bring out the stories of different kings of the Suryavanshi dynasty in the same form through theatrical medium. It is the first English text, written on the ancestors of Lord Rama, who ruled Ayodhya before him.
Besides, I have used a lot of reference material for research in the process of writing my books which was directly or indirectly obtained from the place, research into the history of Ram Janmabhoomi being an important dimension in the same, he said. At the age of 13, when most children in his age group were busy with schoolwork and textbook learning, he chose to recite the Ramayana, and began to study books published in the 19th and 20th centuries. Some of his texts include translations of Rigvedic hymns by Ralph T. Griffith and some of the earliest translations into poetic meters of the Ramayana, Mahabharata and other Indian epics by scholars such as Edwin Arnold and Richard Francis Burton.
Sourav has written two books of historical mythology so far – The Chronicles of Suryavansh and The Scions of Suryavansh. He is currently working on a historical fiction story set in the Mughal period during the early days of Emperor Akbar. Regarding his debut, he says, it is the title of a descendant of the Suryavansh and the rendition of the Ramayana in the English poetic matrix. It's no more than 54 odd pages, but still, every time I look at it, it looks like it. I am just starting to develop as a writer.
(IANS)
[ad_2]

Source link