[ad_1]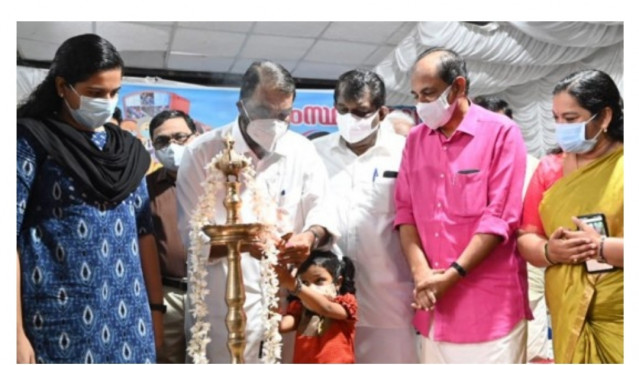 Digital Desk, Thiruvananthapuram. Schools reopened in Kerala on Monday after being closed for 20 months due to the Kovid pandemic. However, it is still not mandatory to attend offline classes, so only 10 lakh students out of 40.2 lakh students returned to classes. Schools have been directed to strictly follow the bio-bubble model apart from other COVID protocols. Kerala Education Minister V.Shivankutty inaugurated the back to school program at Cotton School Girls' School in the capital city.
Similar inaugurations were seen in 13 other districts of the state, while some schools organized their own programs to welcome the students. Shivankutty said that since the threat of Kovid is not completely over, all mandatory protocols will have to be strictly followed. For about two weeks, it will be a readjustment to school and classes. We will see how things are and there will be regular meetings to discuss and debate how the situation can be improved. For now everything will be under close monitoring. A common thing across the state is that school students are definitely happy to be back.
A group of students in the capital city said that we were getting bored with the online mode of study so are happy to be back. Although our smile is hidden behind a mask. Now we are waiting for the classes to be filled. In a rare instance, state agriculture minister P. Prasad came to drop off his daughter at a government school in the state capital. Prasad said that I have come with class 5 student and my daughter Aruna. We are all happy that the children are back in schools. A teacher from Pathanamthitta district said she could not wait to get back to class and be with her students. He said that perhaps this is the first time that we are celebrating such a celebration as Monday is also the 65th foundation day of Kerala. We are all really excited and happy to be back.
(IANS)
[ad_2]

Source link