[ad_1]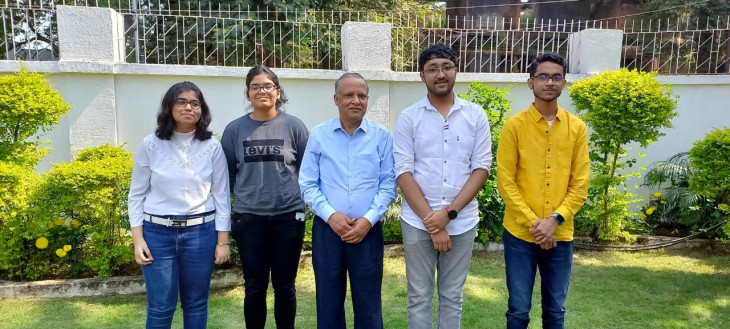 Digital Desk, Ranchi. Senior IAS officer of Jharkhand K.K. Five students studying in Khandelwal's free class have once again got admission in top IITs of the country. Despite the busyness of government service, Khandelwal takes time out to prepare selected children for IIT entrance exams. This year he taught seven students, out of which five have secured excellent ranks and have made it to the country's top IITs. Khandelwal is posted as Additional Chief Secretary in the Higher Education and Technical Department of the Government of Jharkhand and so far 15 students have reached IIT after receiving Gurumantra from him.
Among the successful students this year, Vaishnavi has got admission in Computer Science in IIT Kanpur, while Shashank Kumar has got admission in BTech in Computer Science at IIT Guwahati. A student named Alisha has got electronics branch in IIT Mumbai. Similarly, Yash Raj and Shubham Soni have got admission in IIT BHU. Among the successful candidates, Vaishnavi was also the Jharkhand state topper in the girls category.
Prior to this, in 2017 also, he had prepared six candidates and all of them got success in the best rank. KK Khandelwal prepares for Mathematics and Physics subjects. He told that this time the successful children were studying in his class since March 2019. Taught children as much time as they got before going to office and after returning from office. Whenever he got time in between, he kept on teaching the children. In about two years, he got 200 test papers of JEE Advanced level. He taught everyone online during the Kovid lockdown.
Vaishnavi, who took admission in computer science at IIT Kanpur after studying in Khandelwal sir's free class, says that the best part was that she got every doubt cleared in depth. As a result of this, the result was better. Alisha, who took admission in IIT Mumbai, tells that Khandelwal sir told how to solve a question in three-four ways and brought it into practice which would have been the shortest method. Yash Raj, who took admission in IIT BHU, says that quality education under the right guidance has given us success.
Successful students and parents later visited KK Khandelwal's residence and expressed their gratitude. Khandelwal's two sons and a nephew also got admission in IIT after studying under his guidance five years ago. His son Anupam Khandelwal got 9th rank in All India.
Please tell that KK Khandelwal is originally from Giridih district of Jharkhand. He himself has studied from IIT. In 1981, he got 52nd rank in All India in the entrance examination of IIT. But the goal did not end there. He dreamed of becoming an administrative officer. In the year 1988, he secured eighth position in the list of successful candidates in UPSC. Home cadre was also found due to top ranking. He is Secretary and other higher posts in the Department of Forest and Environment Department, Industries Department, Mines and Geology Department, Building Construction Department, Planning cum Finance Department, Personnel and Administrative Reforms Department, Transport and Civil Aviation Department, Commercial Tax Department etc. of the Government of Jharkhand. have lived.
(IANS)
[ad_2]

Source link