[ad_1]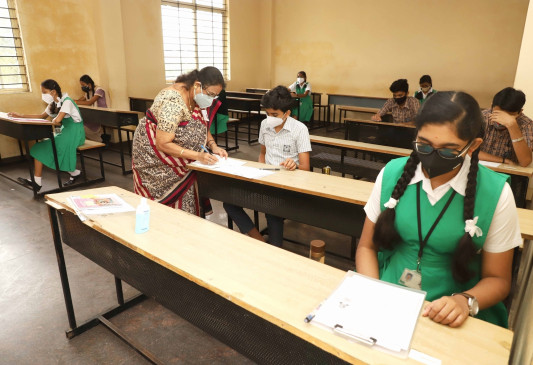 Digital Desk, New Delhi. CBSE 10th board exams have started from Wednesday, November 17. These examinations are being conducted this year after two years of Corona and the closure of schools. CBSE has framed specific guidelines for these exams, as the exams are crucial for evaluation of over 10 lakh students. Presently, CBSE is conducting examinations for minor subjects for class 10th and 12th. After the examinations of minor subjects of 10th and 12th board, examinations of main subjects will be started from November 30. On Wednesday, a painting test was taken for the students of class X. On the other hand, the students of class 12 gave examination of financial market, medical diagnosis, textile design, typography.
The examination of minor subjects is not compulsory for all students. Students who have opted for optional subjects, only those students are appearing in the examination of Minor subjects examination. According to CBSE, the number of students appearing for the minor subjects exam is very less. According to Suhani, a class X student, only six girl students in her class have chosen painting as an optional subject. One of them is also Suhani herself. The schedule for the main subjects examination of class X has also been released. According to the schedule released by CBSE, the social science examination for the 10th board will be taken from November 30 at 11:30 am. Science will be conducted on December 2, Home Science on December 3, Mathematics on December 4, Computer Application on December 8, Hindi on December 9 and English on December 11.
Special arrangements have also been made so that the student does not get corona infected during the examination. According to CBSE, the corona protocol will be strictly followed in all the examination centers. A maximum of 350 students can take the exam in a single centre. A distance of six feet will be maintained between the students. Every student and teacher present in the examination center will have to compulsorily wear a mask.
This time in the CBSE board, keeping in mind the safety of the students, the board examinations have been divided into two important phases. The first phase examinations have started. The second phase board examinations for class 10th and 12th will be started in March-April next year. CBSE has also divided the syllabus of class 10th and 12th into two parts of 50 percent each. The existing examinations are being conducted on the basis of 50% divided syllabus.
(IANS)
[ad_2]

Source link